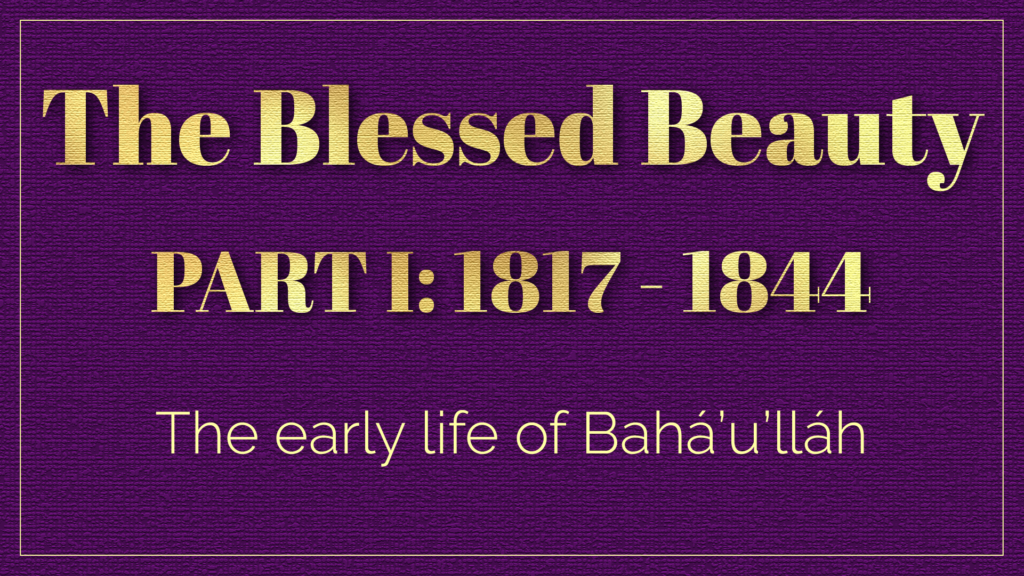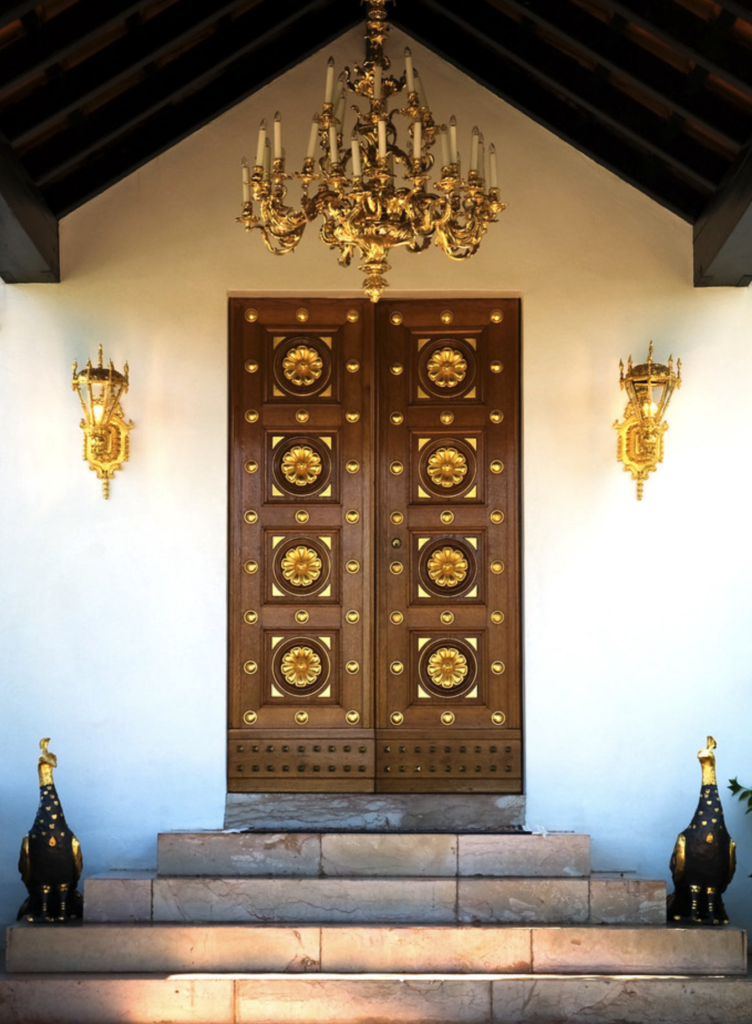 Written and illustrated by Violetta Zein
"He Who is everlastingly hidden from the eyes of men can never be known except through His Manifestation, and His Manifestation can adduce no greater proof of the truth of His Mission than the proof of His own Person."
Gleanings from the Writings of Bahá'u'lláh N°XX
This chronology is optimized for tablets and computers.

To read the chronology, start from the top and read down.

To navigate the chronology, move between parts with the vertical Roman numbers menu to the left of the screen, and move between sections with the numbered vertical menu to the right of the screen.
DISCLAIMER: ONLY BAHÁ'U'LLÁH'S WORDS QUOTED FROM HIS HOLY WRITINGS CAN BE CONSIDERED HIS OWN; ALL OTHER REPORTED UTTERANCES OF BAHÁ'U'LLÁH SHOULD BE VIEWED AS PILGRIM NOTES.
This part covers the life of Bahá'u'lláh from His birth in 1817 to the age of 27 in 1844.
---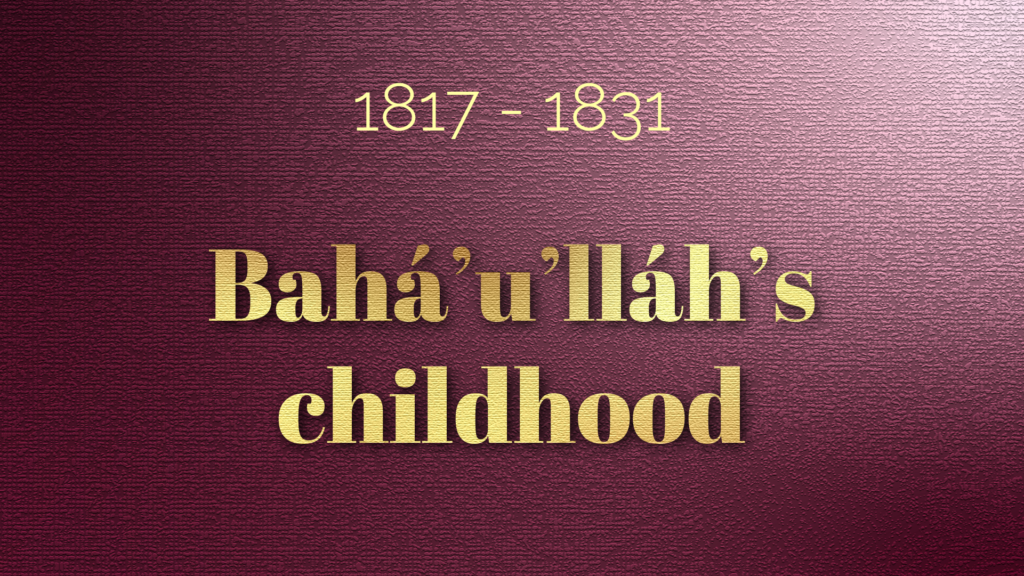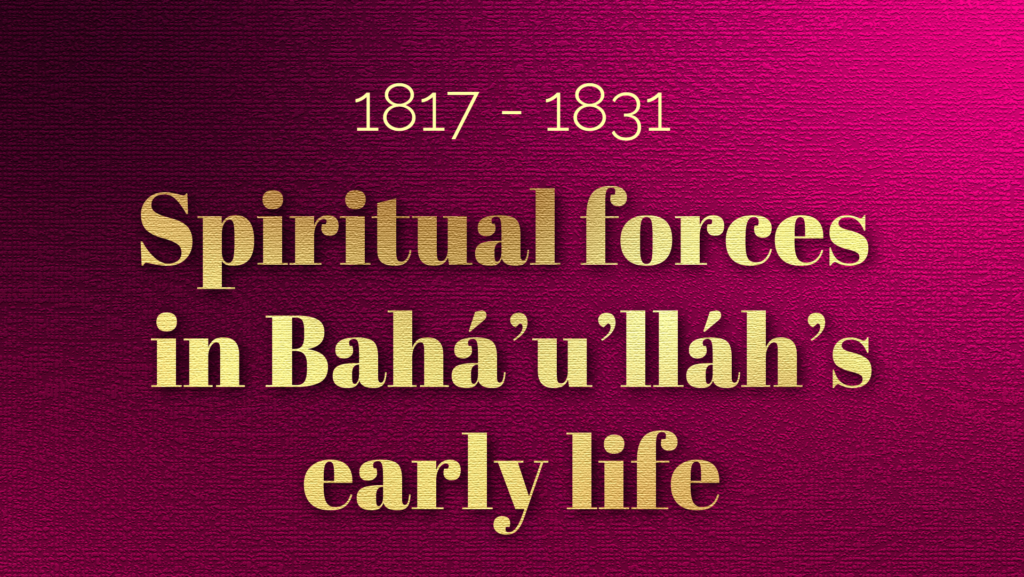 At the age of five or six Bahá'u'lláh described a dream He had to His father. In the dream Bahá'u'lláh found Himself in a garden. Huge birds were attacking Him from every side, but they were unable to inflict any harm on Him. Then, Bahá'u'lláh went into the sea and, as He was swimming, the birds of the air and the fish of the sea attacked Him, and again, He was unharmed.
Bahá'u'lláh's father summoned a man who claimed to be able to interpret dreams. The man said:  "This dream indicates that the Child shall be the founder of a great Cause, and that all the leaders and learned men throughout the world will attack Him, but, like the birds and the fish, they shall do no harm. He will be victorious over all." Bahá'u'lláh's childhood dream could clearly be said to be prophetic, so accurately did it foretell Bahá'u'lláh's lifelong supremacy over His enemies.
---
H.M. Balyuzi, Bahá'u'lláh: The King of Glory, pages 19-20.
'Alí Akbar Furutan, Stories of Baha'u'llah, pages 1-2.

When Bahá'u'lláh was still a child, His father dreamt that Bahá'u'lláh was swimming in a vast, limitless ocean illuminated by His body's splendor. Bahá'u'lláh's long, jet-black hair flowed profusely above the waves, and a multitude of fish gathered, each one holding the extremity of one of Bahá'u'lláh's hairs. The fish, fascinated by His radiance, followed Him in whichever direction He swam. Despite the fish holding on to His hair, Bahá'u'lláh was entirely unharmed, and He moved above the waters free and unrestrained.
Mírzá Buzurg was so impressed by this dream that he summoned a renowned soothsayer to interpret it. The soothsayer, in a moment of prescient clarity about Bahá'u'lláh's future glory, declared:
"The limitless ocean that you have seen in your dream, O Vazir, is none other than the world of being. Single-handed and alone, your son will achieve supreme ascendancy over it. Wherever He may please, He will proceed unhindered. No one will resist His march, no one will hinder His progress. The multitude of fishes signifies the turmoil which He will arouse amidst the peoples and kindreds of the earth. Around Him will they gather, and to Him will they cling. Assured of the unfailing protection of the Almighty, this tumult will never harm His person, nor will His loneliness upon the sea of life endanger His safety."

When the soothsayer was taken to meet Bahá'u'lláh, he carefully examined His features, and was charmed by His appearance, praising every trait of His countenance, stating that in every expression of Bahá'u'lláh's face, he could perceive a sign of His concealed glory, and he praised the child with so much admiration, that Mírzá Buzurg became even more passionately devoted to Bahá'u'lláh, and even more filled with hope and confidence in his extraordinary Son.
---
Nabíl, The Dawn Breakers, Chapter V: Bahá'u'lláh's Journey to Mazindárán
When Bahá'u'lláh was a child, He read Mullá Muḥammad Báqir-i-Majlisí's account of the massacre of the tribe of Banú Qurayẓah, allies of the Muslims who had betrayed them in battle. When they were brought back to Mecca, the Prophet Muḥammad handed their judgment to the leader of a Medinan tribe who had the men beheaded and the women and children sold into slavery.
After reading this account, Bahá'u'lláh "immediately became so grieved and saddened that the Pen is unable to recount it," and "with the ocean of forgiveness and boundless mercy before His eyes, He beseeched the One True God, exalted be His glory, at that time for that which would be the cause of universal love, fellowship, and the unity of all the peoples of the earth."
Bahá'u'lláh's entire being was affected by reading this story and "His comportment, speech and thought were thrown into turmoil, a tumult that gave glad tidings of exaltation." Bahá'u'lláh's state of tumult was constant and uninterrupted for twelve days, "after which the waves of the ocean of utterance became manifest and the effulgences of the sun of certitude dawned." This would culminate years later, at the time of His Revelation in the Siyáh-Chál, also a 12-day period during which Bahá'u'lláh would experience a state of transfiguration and would attain unto "the source of joy to all mankind," and be awakened to His role as the Manifestation of God for today.
In the Tablet He revealed describing the profound spiritual experience that followed learning about the massacre of the Banú Qurayẓah, Bahá'u'lláh describes a desire that formed in His mind as a child to be the instrument of bringing unity and harmony to the world. In the Tablet, He describes how this desire was realized from early childhood over the course of the rest of His life. The twelve-day state of transfiguration Bahá'u'lláh experienced can only be described as an early childhood experience of His future station of Prophethood.
---
Adib Taherzadeh, The Revelation of Bahá'u'lláh Volume 2: Adrianople 1863-1868, page 348.
Moojan Momen, Two Episodes from the Life of Bahá'u'lláh in Iran, published in Lights of Irfan, 20, pages 153-155 and 157.
Fádil Mázandarání, Asrár al-Áthár volume 2, pages 17-18.
Ishráq-Khávarí, Má'idih-yi Ásmání, volume 7, pages 136.
Wikipedia: Banu Quarayza.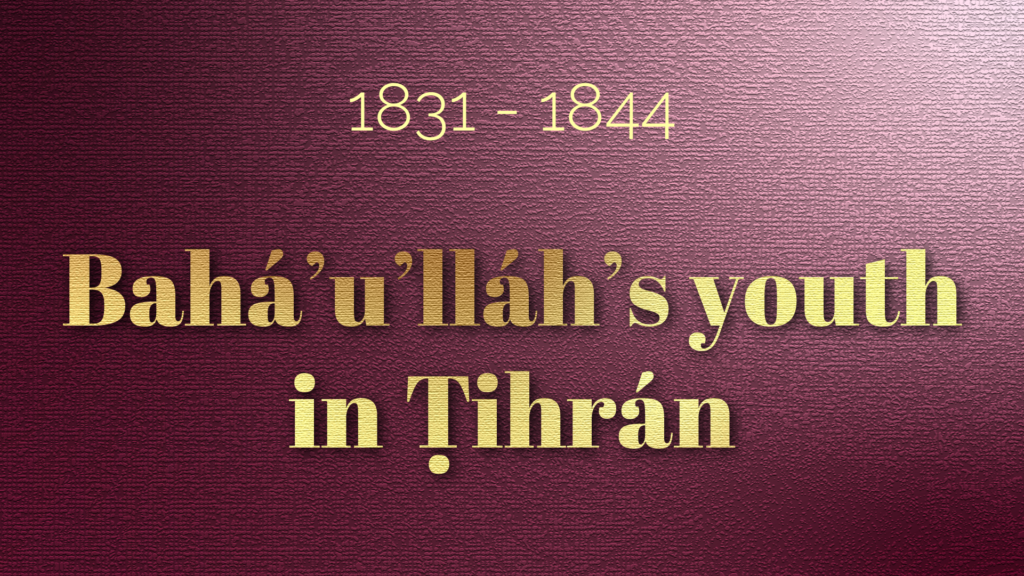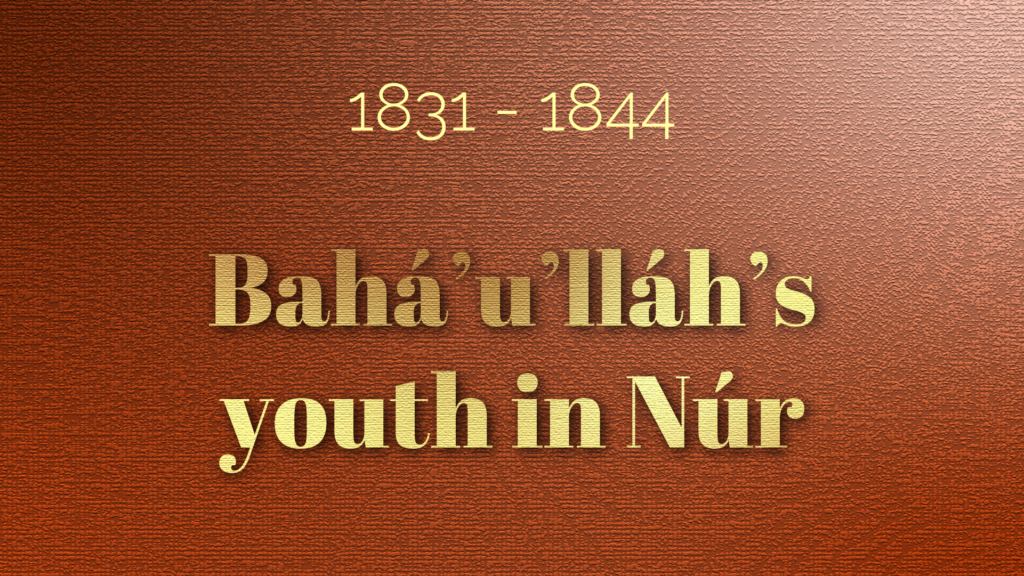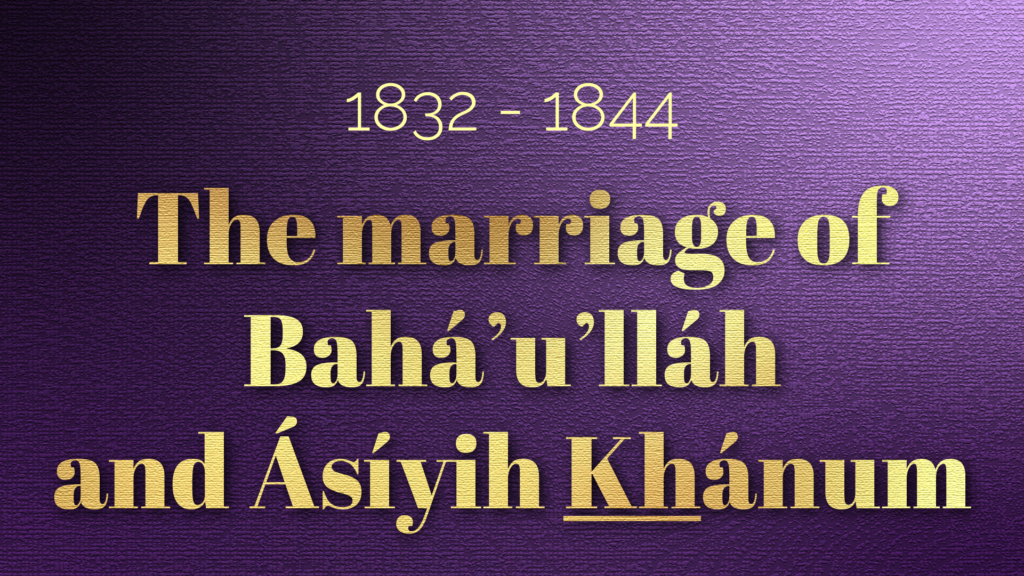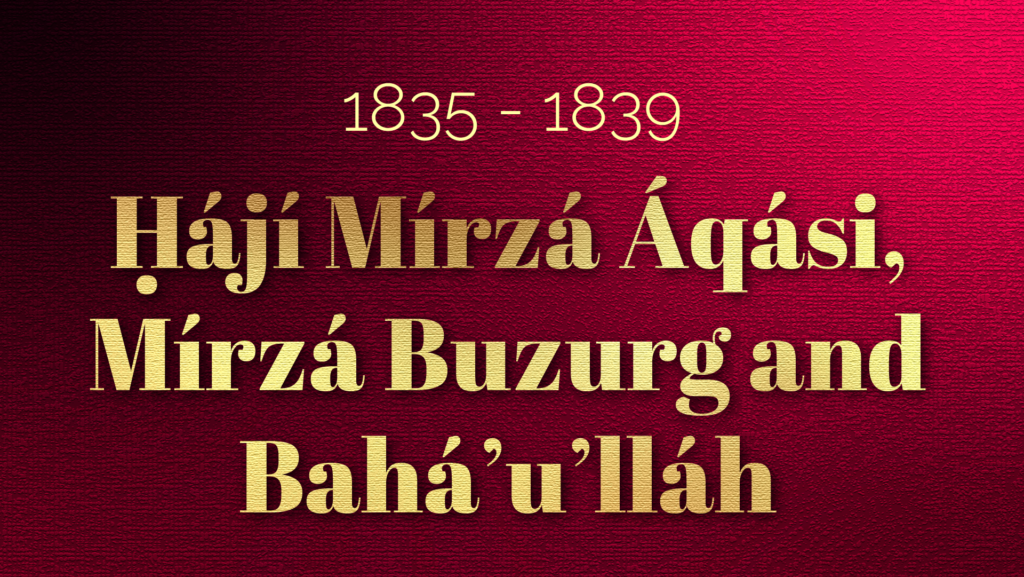 Sometime in 1835, Ḥájí Mírzá Áqásí obtained a letter written by Mírzá Buzurg condemning him for the murder of a dear friend of his, a celebrated Qá'im-Maqám, and this provoked him to unleash the full force of his vengeance. In June 1835, he had Mírzá Buzurg dismissed from his governorships of Burújird and Luristán and canceled his annual allowance, the only revenue he had. Ḥájí Mírzá Áqásí also put pressure on Mírzá Buzurg's last wife, Ḍiyá'u's-Salṭánih, the daughter of Fatḥ-'Alí Sháh, to divorce him.
In dire financial straits,  Mírzá Buzurg was forced to sell and mortgage some of his properties. Once she obtained a divorce, Ḍiyá'u's-Salṭánih's terms were so exorbitant that Mírzá Buzurg could not pay them back, and she had him beaten and tortured until he sold everything he owned, including his palatial complex of houses in Ṭihrán, and all their expensive carpets and furnishings. Mírzá Buzurg moved into one of his wives' houses for four years before retiring to 'Iráq where he died in 1839, four years after Ḥájí Mírzá Áqásí had completely ruined him.
Sometime after October 1835, Bahá'u'lláh, then newly-married, rented a house close to His father, near the Gate of Shimrán, moving in with His wife Ásíyih Khánum, His mother, Khadíjih Khánum, and the rest of His stepmothers, brothers, and sisters. Bahá'u'lláh would spend the rest of His years in Ṭihrán in this house, where all His children were born.
---
Source: H.M. Balyuzi, Bahá'u'lláh - The King of Glory, pages 15-17.
Ḥájí Mírzá Áqásí was dubbed by Shoghi Effendi the "Antichrist of the Bábí Revelation," so bloodthirsty was his hatred of the Bábís. He was the Grand Vizir of Muḥammad Sháh and, though he considered Mírzá Buzurg his enemy, he respected Bahá'u'lláh, but was insincere. After Mírzá Buzurg's death in 1839, Ḥájí Mírzá Áqásí continued to outwardly show Bahá'u'lláh consideration, and visited Him in His home, addressing Him like a son.
One day, Ḥájí Mírzá Áqásí passed by a charming village belonging to Bahá'u'lláh called Quch-Hisar, and was completely won over by its beauty and abundant sources of water. He decided he wanted this village for himself. He summoned Bahá'u'lláh in order to purchase it, but Bahá'u'lláh told him He could not sell the village, because it did not belong exclusively to Him. He shared ownership of the village with a number of other people, rich and poor, adults and some still minors. Bahá'u'lláh suggested Ḥájí Mírzá Áqásí confer on the matter with the other owners, and obtain their consent.
When Ḥájí Mírzá Áqásí decided to try to acquire the village through fraudulent means, Bahá'u'lláh transferred His ownership to one of the Shah's sisters, who had also expressed interest in the charming place. Ḥájí Mírzá Áqásí contested the situation, but the Sháh ruled against him. Then, Ḥájí Mírzá Áqásí showed his true colors, and tried to discredit Bahá'u'lláh, who successfully established His innocence. In every attack the Grand Vizir ventured against Bahá'u'lláh, he came away defeated and humiliated. 
---
Nabíl, The Dawn-Breakers, Chapter V: Bahá'u'lláh's Journey to Mazindárán, pages 120-122.
Shoghi Effendi, God Passes By, for the reference to the antichrist of the Bábí Revelation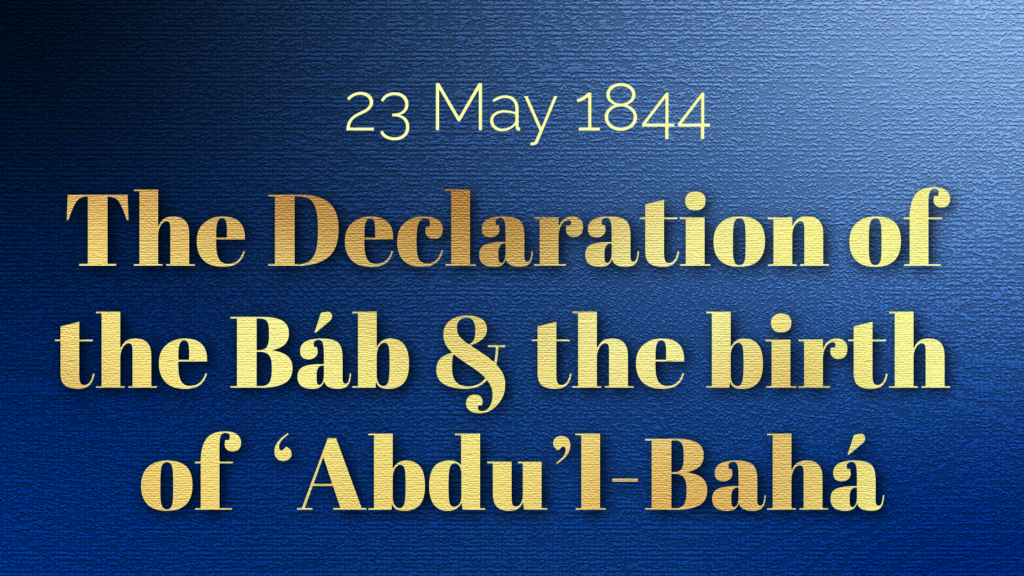 The Bábí and Bahá'í Faiths are deeply intertwined. Following the 6,000 year Adamic Cycle, which ended with Muḥammad's Dispensation, the Báb's Mission was to inaugurate a wholly new Dispensation in the progressive Revelation of the world's religions. The Báb's brief ministry prepared the way for the Dispensation of Bahá'u'lláh and also inaugurated the Bahá'í Cycle. The Báb and Bahá'u'lláh, the "Twin Manifestations of God," were born two years and a day apart, and their birthdays are celebrated as Twin Holy Days. During the Báb's lifetime, they were in regular contact, and both suffered persecution, torture and multiple imprisonments. The Báb and Bahá'u'lláh are regarded by Bahá'ís as "Co-Founders" of the Bahá'í Faith.
Another deep connection uniting the Bábí and Bahá'í Faiths is that on the day the Bábí Faith was born, inaugurating the Bahá'í Dispensation, so was 'Abdu'l-Bahá born, He Who was destined by God to be the Perfect Exemplar, and the very personification in His spiritual qualities, His character, and His every action, of all the teachings of Bahá'u'lláh, the Manifestation of God for today.
These two events took place approximately six hours apart, in Shíráz, in the south of Persia, and 700 kilometers (430 miles) to the north, in Ṭihrán. This is the story of that momentous night.
An hour before sunset on 22 May 1844, the Báb, born Siyyid ʻAlí Muḥammad Shírází, a 25-year-old descendent of the Prophet Muḥammád, of pure and holy lineage, announced He was the Qá'im, the Promised One of Islám, to the young Mullá Ḥusayn, the first to believe in Him. In his own words, Mullá Ḥusayn testifies to that night:
"I sat spellbound by His utterance, oblivious of time and of those who awaited me...I was enthralled by the music of that voice which rose and fell as He chanted; now swelling forth as He revealed verses of the Qayyúmu'l-Asmá', again acquiring ethereal, subtle harmonies as He uttered the prayers He was revealing." 
The Revelation the Báb had the effect of a thunderbolt on Mullá Ḥusayn, who felt transfigured to the very depth of his soul by its dazzling splendor and overwhelming power. This instant spiritual transformation was the effect the Báb would have on countless of His early followers.
---
Shoghi Effendi, God Passes By. 
23 May 1844 as the birth of both the Bábí and Bahá'í religions, see Shoghi Effendi, God Passes By (Foreword, first sentence) and Bahá'í World News Service: Bahá'ís Observe Declaration of the Báb, 19 May 2009.
Seven hundred kilometers away in Ṭihrán, and six hours into the enthralling, momentous encounter between the Báb and Mullá Ḥusayn, Bahá'u'lláh and Ásíyih Khánum welcomed their Son 'Abbás (Lion), into the world. He would later adopt the title 'Abdu'l-Bahá, meaning Servant of Bahá.
It is a cherished miracle for Bahá'ís, that on the day the Bahá'í Dispensation was inaugurated, God ordained for its Perfect Exemplar, 'Abdu'l-Bahá to be born, only a few hours later. And for Him to be born as the Son of Bahá'u'lláh, "Him Whom God shall make manifest," for Whom the Báb was to prepare the way.
---
For 'Abdu'l-Bahá intuitively recognizing the station of Bahá'u'lláh: H.M. Balyuzi, The Covenant of Bahá'u'lláh, Chapter 2.
For 'Abdu'l-Bahá being the third child: Baharieh Rouhani Ma'ani, 'Ásíyih Khánum: The Most Exalted Leaf Entitled Navváb, page 17.
For the titles of Bahá'u'lláh: Shoghi Effendi, The World Order of Bahá'u'lláh, The Dispensation of Bahá'u'lláh: 'Abdu'l-Bahá.
For the quote about "the seal of God:" Rúhíyyih Rabbani, The Priceless Pearl, Chapter 1.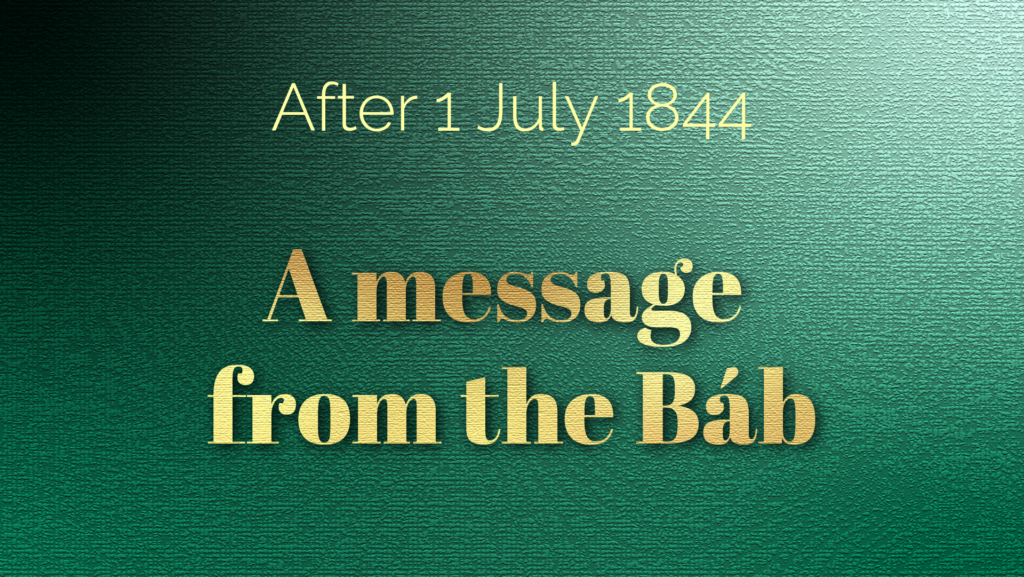 Around 1 July 1844, about 40 days after His Declaration to Mullá Ḥusayn, 17 of the 18 Letters of the Living, the first Bábís, had recognized the Báb's station and embraced His Cause, in person, in dreams or by letter. The Báb delivered a stirring address before parting with the Letters of the Living, urging caution, unveiling their rank, and hinting at an even more glorious Day.
The Báb then entrusted Mullá Ḥusayn, the First Letter of the Living with a crucial mission: to travel to Ṭihrán and find the secret "hidden in that city," which, "when made manifest, it shall turn the earth into paradise."
The Báb had specifically told Mullá Ḥusayn to travel through Iṣfahán, Káshán and Qum. Once he had arrived in Ṭihrán, Mullá Ḥusayn rented a room in the theological seminary known as the madrisih of Páy-i-Minár, not far from Bahá'u'lláh's house. Each day, he would leave early in the morning and return after sunset, never leaving his room at night. After overhearing Mullá Ḥusayn speak to a divine, a man named Mullá Muḥammad-i-Mu'allim of Núr was drawn to him because of his passion and eloquence.
Around midnight, Mullá Muḥammad-i-Mu'allim called on Mullá Ḥusayn who not only welcomed his visitor with affection and courtesy but felt that this encounter was the reason for his stay in the seminary. As soon as he discovered Mullá Muḥammad-i-Mu'allim was from Núr, Mullá Ḥusayn asked pointed questions about the character and occupation of any outstanding member of the late Mírzá Buzurg's family. He instantly knew he had found the "secret" hidden in Ṭihrán, and asked him to deliver a package to Bahá'u'lláh and return with His response. At dawn, Mullá Muḥammad-i-Mu'allim set out to deliver the message from the Báb.
---
Shoghi Effendi, God Passes By.
Nabíl, The Dawn-Breakers, pages 86 and 97-106.
As Mullá Muḥammad-i-Mu'allim was approaching Bahá'u'lláh's house, he recognized His younger brother. Mírzá Músá, standing by the gate, and conveyed Mullá Ḥusayn's message. Mírzá Músá returned a few moments later, welcoming him in. Mullá Muḥammad offered Mírzá Músá the scroll from the Báb and Mírzá Músá laid it before Bahá'u'lláh, who invited both men to sit.
Bahá'u'lláh unfolded the scroll, glanced at its content and began to melodiously read aloud certain passages. After reading a page of the scroll, Bahá'u'lláh turned to Mírzá Músá, and said:
"Músá, what have you to say? Verily I say, whoso believes in the Qur'án and recognises its Divine origin, and yet hesitates, though it be for a moment, to admit that these soul-stirring words are endowed with the same regenerating power, has most assuredly erred in his judgment and has strayed far from the path of justice."
Bahá'u'lláh had instantly become a Bábí, wholly embracing the Báb's claim and mission.
In response to Mullá Ḥusayn, Bahá'u'lláh entrusted Mullá Muḥammad-i-Mu'allim with a return gift for the Báb: a loaf of Russian sugar, a package of tea, and the expression of His appreciation and love.
Mullá Muḥammad-i-Mu'allim delivered the gift to Mullá Ḥusayn who accepted it reverently, bowing his head and kissing the precious package. His joy and exultation were indescribable. He took Mullá Muḥammad in his arms and kissed the eyes that had seen Bahá'u'lláh, enjoining him to never speak a word of what he had witnessed, and to pray for Bahá'u'lláh's protection.
---
Nabíl, The Dawn-Breakers, pages 106-109.